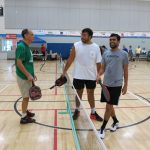 Move over workout gyms, a new way of getting fit is taking over and its way better than counting reps and sets; let's put up the net, set up the court and play Pickleball!
Pickleball as a Sport
Since its origin, Pickleball as a sport is slowly gaining influence and has captured the attention of sports enthusiasts and non enthusiasts alike. It started in the US and has spread all over the world to countries like Spain, France, India, the UK, and more particularly, Canada.
All over the world, there are countless courts dedicated to the sport; and for countries that have not officially recognized it, enthusiasts are setting up improvised badminton courts as playing places.
Pickleball is a relatively new sport that is a mix of badminton and tennis. It's played with a badminton sized court with a lowered net, a paddle larger than table tennis, a Wiffle ball, and a set of rules that you can even modify according to the way you want to play..
Today, there are a lot of Pickleball events all over the world from small town local tournaments to country-wide tournaments. There is even a worldwide tournament that I think shows how the sport has grown from its humble origins.
A Great Way to Have Fun
Pickleball started out as something that the whole family can enjoy, and today it still stays true to the idea of it being a fun experience for the whole family. Anyone of any age can pick up a paddle and start playing. I've met a lot of families that have mini tournaments when they have a reunion or a small gathering. And even my own family has started to hold little tournaments during the weekends just to make a healthy competition out of our lazy Sunday afternoon. There are also tournaments that are being hosted by local clubs and organizations all over the country. Also, there are national competitions that liven up the competition all over Canada.
The International Federation of Pickleball or IFP was founded to oversee and perpetuate the growth and development of Pickleball. The organization looks to each member country to follow the rules and bylaws of the sport; and they are also the central figure in establishing the official rules of the sport for tournaments.
The rules are fairly easy and you can even modify it a bit to fit the level of fun you want to have. Some schools in North America have incorporated Pickleball in their gym classes; teachers would adjust the rules depending on the age level of the students that are playing.
When my friends or family and I would play Pickleball, we sometimes would invite someone from another group to play with us for a while and they would end up inviting some of his/her friends to our game. I notice that this sport could also be a great social activity where you can expand your group, not only your pickleball group but your group of friends as well.
In essence, it's a sport with fun at its core and it can be enjoyed by everyone in the family, from children, to grandparents, and everyone in between.
A Great Way to Enjoy Getting Fit
In this day and age, there a lot of ways to stay fit; working out in the gym, doing cross fit, jogging, cycling, and all the other ways of getting up a sweat.
When I discovered Pickleball, it started out as a wholesome, family experience; then it started to become a hobby that I do with family and friends. As I was having fun, I realized that it could also be a great way of staying fit; it is a sport after all. I talked to multiple sources and I found out that they are replacing gym memberships with paddles and used the sport as a great way to stay active and fit. So I changed my schedule in a way that the time I spent in the gym was spent playing pickleball with friends and it turned out great.
I would definitely recommend the sport to anyone looking to have fun, make friends, and stay fit all in one place. Where else can you find that but at the nearest Pickleball court? So set up the net, pick up the ball and paddle and let's play Pickleball!
Blog Credit: Joshua Christensen